Algonquin Park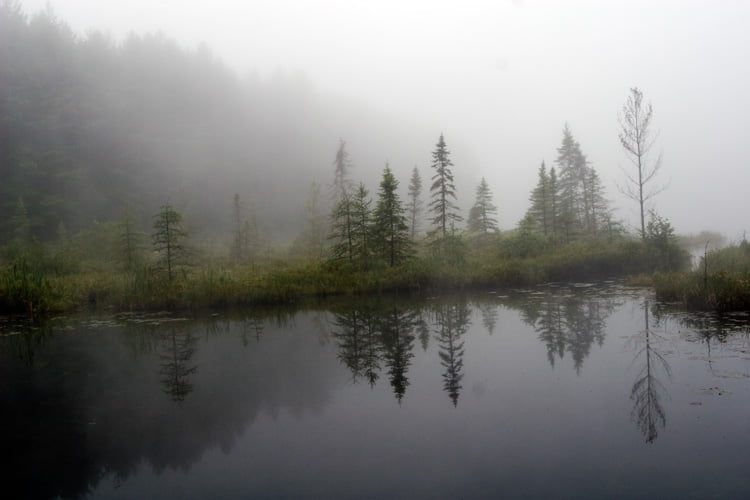 Established in 1893, Algonquin Park is the oldest provincial park in Canada.
Located only a 3 hour drive north of Toronto, Ontario the park provides a wilderness experience that is easily accessed from Southern Ontario.
Encompassing about 7,653 square kilometres (2,955 sq mi), it contains over 2,000 kilometres of back country canoe routes connecting thousands of its pristine lakes.
Providing for any level of outdoors actives.
From the "civilised city" camper. With eight campgrounds and fourteen hiking trails. That provide easy access for the car camper arriving with tent or trailer. Some even providing electrical hookup along the Highway 60 corridor.
To the skilled outdoors person. With 29 different entry points allowing access to the thousands of kilometers of back-country canoeing and hiking. For overnight and multi day use a back-country permit is required. And you will need to show your approved camp stove to the warden before entering. There is also a complete bottle and can ban in effect in the back-country.
The park is home to an active and healthy black bear population. As well as wolf packs and fox requiring good back-country skills for those traversing its rugged landscape.
Algonquin with 272 recorded bird species, some residents some migrants, is also a haven for the ornithologist!
Not to forget mentioning spotting the occasional elusive moose!
Located in an area of transition between northern coniferous forest and southern deciduous forest the park is along the "border" between Northern Ontario and Southern Ontario. For the landscape enthusiast the park provides excellent diverse scenery in all seasons, especially in the fall when the trees along the highway 60 corridor turn to an amazing riot of colors.
The park boasts a large visitors centre located at Km 43 containing a shop, restaurant, museum and a viewing platform overlooking several lakes. As well as a Logging museum at Km 54.5.
WiFi is available only at the visitors centre, and fortunately in most places cell phones still do not have a signal allowing for a quiet peaceful time while visiting.
Whether you are car camping or going back-country I highly rate the park and can only recommend it.
It is well worth the visit!
You can find out more about the park and make your camp reservation at Ontario Parks
For updates and news about the park visit the Friends of Algonquin Park FOAP
There is also an excellent Art Gallery at Km 20 on Highway 60 inside the park boundaries, it is well worth a visit. Entrance to the gallery is by donation, which helps fund it operations.
Enjoy your stay!